Become BARBICIDE® Certified Today
Demonstrate your dedication to providing safe services in the salon, spa or barbershop
Director of Education for BARBICIDE® – Leslie Roste, RN, Milwaukee Mayor Barrett and Deputy Commissioner of Health Claire Evers come together to talk through best practices for reducing infection risk and operating safely.
FREE Download – A Plan of Action for your Salon, Barber Shop or Spa Following the COVID-19 Pandemic
The following recommendations, therefore, are enhancements to those existing rules and they address the unique scenario presented by the COVID-19 pandemic
Welcome to BARBICIDE®
BARBICIDE® is perhaps the most iconic of all images in the professional beauty industry. It signifies a safe, clean environment for everything from a haircut to a pedicure.
All BARBICIDE® products are EPA Registered disinfectants, designed to meet the needs of state boards and assures consumer disinfection is an important part of your business.
Become BARBICIDE® Certified Today
Complete the FREE Course that takes less than an hour earning you a portfolio-ready certificate showing your dedication to infection control in salons, spas, and barbershops.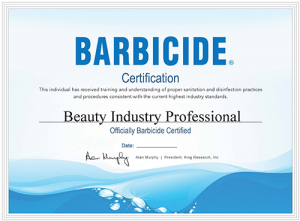 BARBICIDE® Products
To help you keep your salon, barbershop or spa clean and disinfected, we offer a full line of products specifically designed for the unique needs of the industry professional. In addition, many of our products have found uses in a broad spectrum of industries including healthcare, pet grooming, food service, hotels and childcare.