Become BARBICIDE® Certified Today
Demonstrate your dedication to providing safe services in the salon, spa or barbershop
Looking for higher education opportunities within the professional beauty industry? Campus Director of Aveda Institute Denver, JoAnne Stevens, offers advice and guidance to those looking to expand their careers outside of working behind the chair.
After being the subject of so many interviews, Leslie Roste, RN, BSN, BARBICIDE®'s Director of Education turned the tables and launched this fun and informative series to investigate some of the less ordinary aspects of the industry
Watch our latest episode with Susanne as she discusses Domestic Violence training within the Professional Beauty Industry – stay tuned for free DV training housed on Barbicide.com this fall.
Welcome to BARBICIDE®
BARBICIDE® is perhaps the most iconic of all images in the professional beauty industry. It signifies a safe, clean environment for everything from a haircut to a pedicure.
All BARBICIDE® products are EPA Registered disinfectants, designed to meet the needs of state boards and assures consumer disinfection is an important part of your business.
Become BARBICIDE® Certified Today
Complete the FREE Course that takes less than an hour earning you a portfolio-ready certificate showing your dedication to infection control in salons, spas, and barbershops.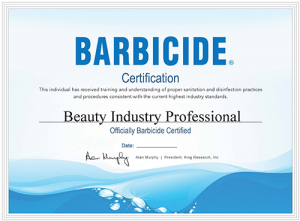 BARBICIDE® Products
To help you keep your salon, barbershop or spa clean and disinfected, we offer a full line of products specifically designed for the unique needs of the industry professional. In addition, many of our products have found uses in a broad spectrum of industries including healthcare, pet grooming, food service, hotels and childcare.